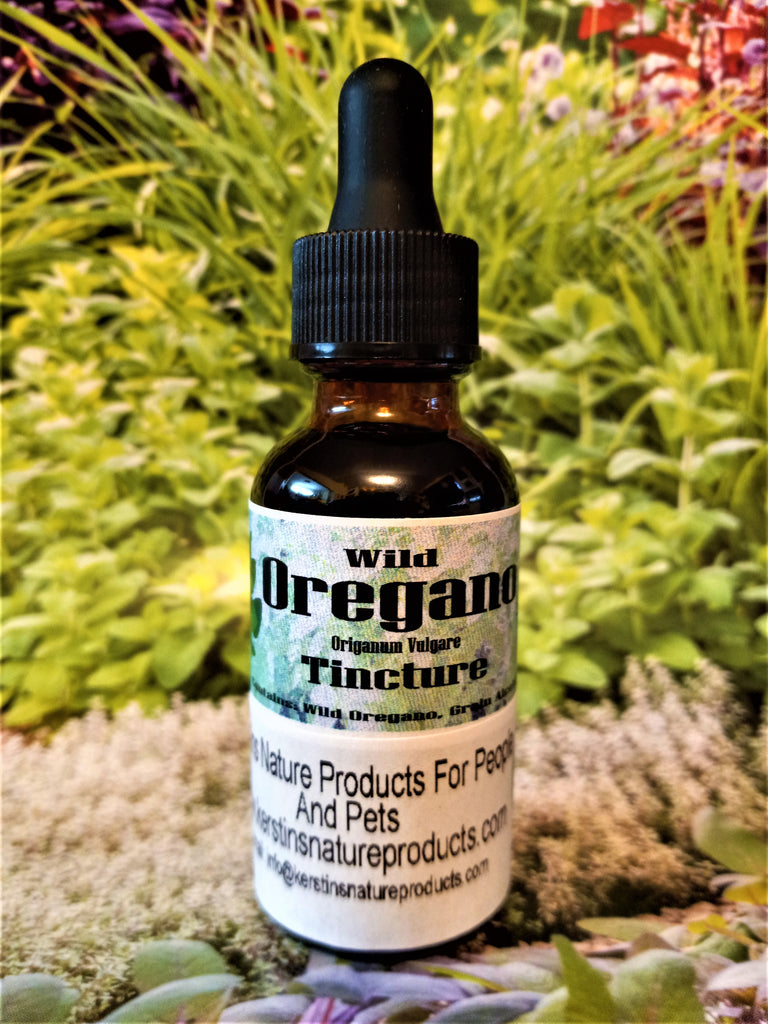 Wild Oregano Herbal Tincture Extract (Origanum Vulgare)
---
Oregano grows wild throughout the world, but is native to the Mediterranean area. Oregano is most commonly used in North America as a cooking-herb but also has powerful, medicinal properties.

Oregano contains a volatile oil rich in pungent-tasting carvacrol. The oil also contains thymol, beta bisabolene, caryophyllene, linalool and borneol, as well as a bitter principle consisting of flavonone neohesperidoside. It also contains flavonoids, tannins, phenolic acids, resins, and sterols. Wild Oregano (Oreganum vulgare) has the most potent medicinal qualities.

Wild Oregano is high in antioxidants. One active agent in Wild Oregano is rosmarinic acid, which is a strong antioxidant that may support immune system health.

Wild Oregano is also a excellent source of vitamins and minerals. It is high in the vitamins A C, and E complex, as well as zinc, magnesium, iron, calcium, potassium, copper, manganese and niacin.

It has a powerful ability to fight infections. The science regarding the ability of Wild Oregano extracts to conquer infections is very clear, showing a very powerful effectiveness against candida albicans, aspergillus mold, vaginal infections, staff infections, and more.

Wild Oregano is antibacterial, anti-fungal,and shows strong actions against germs.

Wild Oregano is used to treat respiratory infections.

Wild Oregano is anti-inflammatory and can be used to replace anti-inflammatory medications for reversing pain and swelling.

Wild Oregano encourages sweat production helping to detox your body, and making it a must-have for cold and flu season.

Wild Oregano Tincture can be used to reduce the symptoms and duration of the cold and flu, help relieve digestive problems, and provide relief for muscle aches and pains.


Uses for Wild Oregano Tincture Extract:
Sinus Congestion, Colds and Sore Throats, and Digestive Problems - Add about 20-30 drops to a glass of water or juice and drink. 
For sinus congestion dilute 5 drops of tincture with one teaspoon olive oil and rub some of the oil directly on your sinuses for relief.
Sore Muscles, Arthritis, Aches and Pains-Massage - dilute 10-30 drops tincture with one tablespoon olive oil and rub into affected area to relieve pain and inflammation.
General Dosage Suggestion: Take about 20-30 drops three times a day with juice or water.

Ingredients: Freshly harvested Wild Oregano, Grain Alcohol


Please note: This information has not been evaluated by the Food and Drug Administration. This information is compiled from traditional and modern herb books, articles, and research. This information is summarized for its educational value and should not be used for the diagnosis, treatment, or prevention of disease. It should not be used to replace the services of a qualified practitioner. When you are buying this product you are agreeing to be fully responsible for your own health, and hold seller free of any liability. The seller, assumes NO responsibility for any adverse reactions from the usage of these products.
---
Share this Product