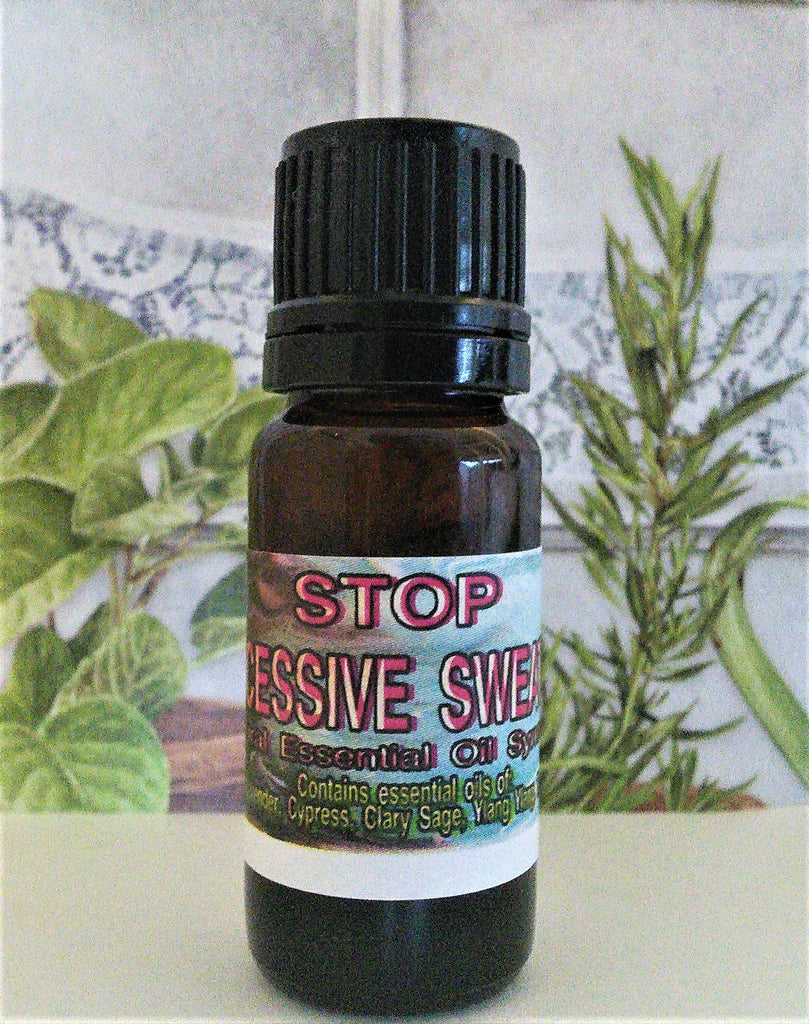 Stop Excessive Sweating - Essential Oil Blend
---
Pure essential oil synergistic blend for excessive perspiration
Excessive sweating is a serious matter, especially when it takes place in front of others! People often try to hide from the situation which leads to anxiety and it usually increases the amount of sweat. Excessive sweating is also more common in patients who are overweight or in poor health condition. People go to great effort to conceal the fact that they are sweating a lot. Typically, when people suffer from this problem, it will involve the palms, feet, face, or armpits.
The chemicals in anti-perspirants help prevent sweating but if you use an anti-perspirant, you may be creating a double danger to your health. Every time you apply an anti-perspirant, it's like damming up a river, sweat backs up in and around your armpits. Chemicals like aluminum (one of the main ingredients of those anti perspirants) has been linked with breast cancer and with Alzheimer's disease.
These days many people prefer to find natural ways to help with this situation. This natural pure essential oil blend can protect you from exposure to unnecessary, harmful ingredients and still leave you smelling fresh and feeling confident. The essential oils used in this synergistic blend have anti-bacterial and anti-fungal properties. The best way to use this oil blend is to mix 30 drops with 2 ounces of witch hazel extract or water in a spray bottle and shake well. Witch-hazel extract, readily available in drug and grocery stores, constricts skin pores and thus reduces excessive sweat formation too. Spray it under your arms, the palms of your hands or feet. You can also put some drops in a bowl of water to wash or rinse off the affected areas or put some drops in your bath water. You can use it as often as needed. Your body will still be allowed to perspire but you won't feel quite so conscientious about the sweat factor.
Contains pure undiluted essential oils of: Rose Geranium, Lavender, Cypress, Clary Sage, Ylang Ylang, Tea Tree, Peppermint
FOR EXTERNAL USE ONLY !!!
Please note: This information has not been evaluated by the Food and Drug Administration. This information is compiled from traditional and modern herb books, articles, and research. This information is summarized for its educational value and should not be used for the diagnosis, treatment, or prevention of disease. It should not be used to replace the services of a qualified practitioner.
When you are buying this product you are agreeing to be fully responsible for your own health, and hold seller free of any liability. The seller, assumes NO responsibility for any adverse reactions from the usage of these products.
---
Share this Product