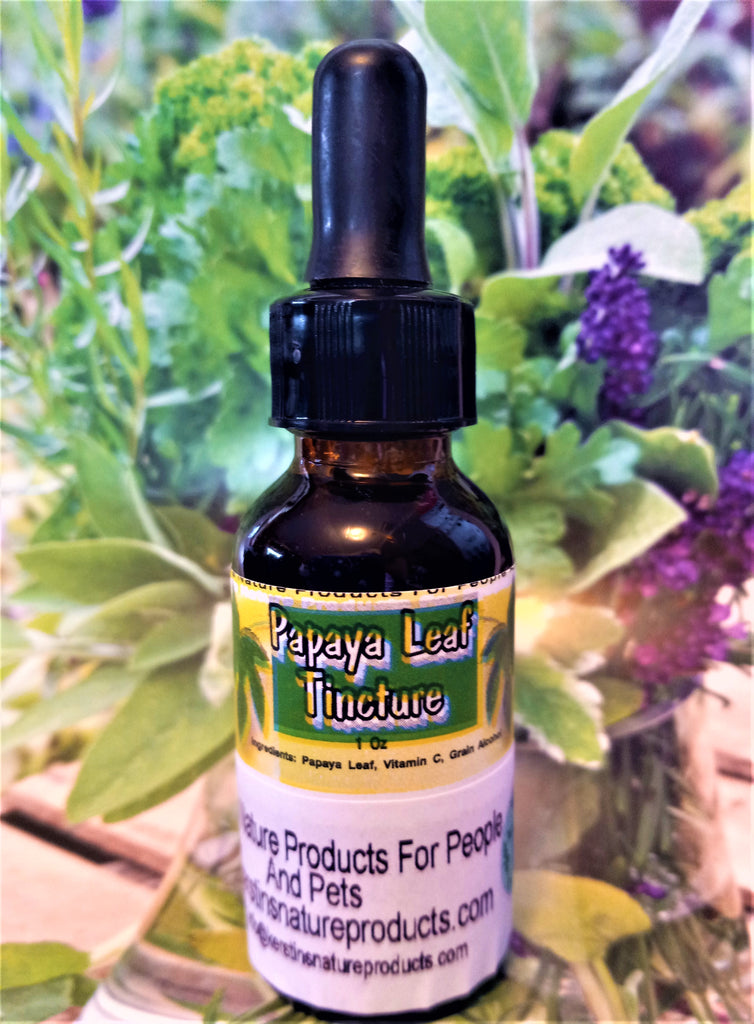 Papaya Leaf Herbal Tincture
---
Papaya Leaf Tincture 
I am using fresh cut papaya leaves, which I grow in my garden (we love eating fresh papayas because of the many health benefits). I only use organic soil, fertilizer, chicken compost and organic insect repellents for growing my plants. The vitamin C part in this tincture comes from fresh organic lemons (also grown in my garden). For the base I use pure grain alcohol.
Papaya (Carica papaya) contains the enzyme papain, present in the fruit, stem and leaves. It contains biologically active compounds such as chymopapain and papain, which are aids in digestion. Papaya leaf also contains high amounts of vitamins A, C, E, K, B Complex (especially B17).
Papaya Leaf has been used as an aid for stomach ailments, due to its enzyme contents. Papaya Leaf especially aids in the digestion of proteins, but also helps to digest carbohydrates and fats. Papaya leaf also shows promise as an aid in combating ulcers. Because of the containing enzymes it also may digest parasite worms in the intestines.
Phyto-chemicals in papain may increase immune-system function and may also promote the release of natural chemicals that attack tumor cells. Papain may lessen inflammation, as well. All of these potential effects make preparations containing papain useful as an addition to cancer therapy.
Externally Papaya Leaf tincture can be used to dissolve corns, warts and pimples. Other uses: ulcerated skin and open wounds and for cleaning discharges of the middle ear.
Suggested Dosage:
Internally 20-60 drops daily
Externally apply diluted in some water or olive oil or undiluted on affected areas
Ingredients: Papaya Leaf, Vitamin C, Grain Alcohol
*This statement has not been evaluated by the Food and Drug Administration. This product is not intended to diagnose, treat, cure, or prevent any disease.
---
Share this Product