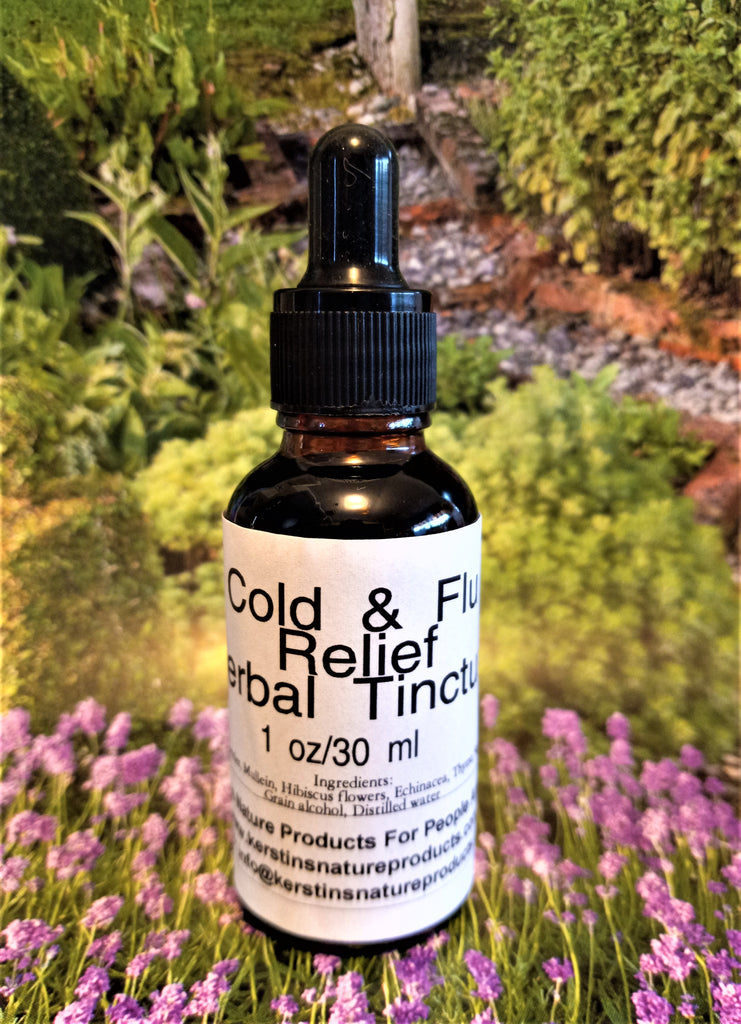 Cold and Flu Relief Herbal Tincture
---
Upper and lower respiratory symptoms respond well to the healing properties of the herbs contained in this soothing, decongesting Tonic. An all-natural way to help ward off the onset of cold and flu symptoms. Don't let the cold and flu season get you down.
This formula is useful for helping to inhibit the spread of infection, 

avoid colds and other viral infections from developing and if they do manifest, it helps to aid in recovery and ease the symptoms. This formula has also been used for boosting the immune system and helps with long-term debilitating illnesses.  
Dosage Suggestion: 
Take 20 to 30 drops three times a day as soon as you begin to feel the symptoms of flu, cold or viral infection. Drink lots of fluids and eat fruit and vegetables. Avoid heavy meals, they could bring on symptoms. Shake well. Store in a cool, dark place. 
Ingredients: 
Rosehips, Elder flowers,Elder berries, Mullein, Hibiscus flowers, Echinacea, Thyme, Sage, Fennel, Stevia, Vitamin C, Grain alcohol, Distilled water
DISCLAIMER: 

This information has not been evaluated by the Food and Drug Administration. This information is compiled from traditional and modern herb books, articles, and research. This information is summarized for its educational value and should not be used for the diagnosis, treatment, or prevention of disease. It should not be used to replace the services of a qualified practitioner. 

When you are buying this product you are agreeing to be fully responsible for your own health, and hold seller free of any liability. The seller, assumes NO responsibility for any adverse reactions from the usage of these products.
---
Share this Product