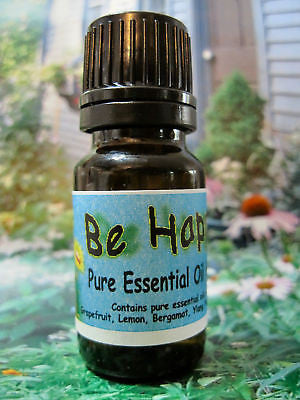 Be Happy - Essential Oil Blend ~Multiple Sizes
---
Have you had days when you just can't seem to see anything positive in the day? You feel like you don't know how you will cope? Lack confidence to get through a task?
Essential oils may help enhance psychological well being by relieving depression, stress, sadness and anxiety and helping you feel more cheerful, revived, refreshed and happy. 
Essential oils are used  to promote calm, energize, or help to create a meditative atmosphere.
BE HAPPY pure essential oil blend can help enhance happiness, joy and peace. The oils used in this synergy blend are a wonderful choice when seeking a pleasant, happy environment. BE HAPPY pure essential oil blend produces an uplifting magnetic energy and brings happiness to the heart.
Suggestions how you can  use the essential oil blend BE HAPPY:
Diffuse in any room diffuser

Place several drops in a personal inhaler or in a tissue and smell as needed.

You also can put some drops on a cotton ball or tissue and place it in the cooling/heating vent in your car

Mix a few drops with sea salt or epsom salt for a bath.

Wear a drop of the oil blend behind each ear as a perfume

Rub a few drops on the heart and the bottom of your feet to to relieve feelings of depression and frustration
Ingredients: pure essential oils of Grapefruit, Lemon, Bergamot, Ylang Ylang and  Rose
About the oils:
Grapefruit Oil has a fresh, sweet, and citrusy aroma. Invaluable in times of stress and depression as it uplifts and revives the spirit.

Lemon Oil has a clean and sharp citrus aroma. It helps to clear thoughts, helps with concentration and lifts the spirits.

Bergamot Oil  relaxes the nervous system and has an uplifting, spicy, sweet aroma.

Ylang Ylang Oil has a sweet, floral, heavy aroma. It eases feelings of anger, anxiety, shock, panic and fear.

Rose Oil has a deep, sweet, rosy-floral, tenacious odor. It is harmonizing, anti-depressive and helps make sorrow easier; soothes feelings such as anger, fear and anxiety.
Please note: This information has not been evaluated by the Food and Drug Administration. This information is compiled from traditional and modern herb books, articles, and research. This information is summarized for its educational value and should not be used for the diagnosis, treatment, or prevention of disease. It should not be used to replace the services of a qualified practitioner.
When you are buying this product you are agreeing to be fully responsible for your own health, and hold seller free of any liability. The seller, assumes NO responsibility for any adverse reactions from the usage of these products. 
---
Share this Product